We're here to help you find the Alhambra trash pickup schedule for 2023 including bulk pickup, recycling, holidays, and maps.
The City of Alhambra is in California with Pasadena to the north, Burbank to the northwest, Monterey Park to the south, San Gabriel to the east, Los Angeles to the west.
If there's a change to your normal trash collection schedule then there's a good chance your street sweeping schedule has changed too so make sure to check for updates.
Alhambra Trash Collection Calendar 2023
For normal trash collections schedules, visit https://www.cityofalhambra.org/279/Solid-Waste-Recycling
Trash Pick Up Holidays
Here you can see the city-observed holidays.
There is no residential or commercial trash/recycling services provided on:
New Year's Day
Memorial Day
Fourth of July
Labor Day
Thanksgiving Day
Christmas Day
Service will be delayed by one day when the holiday falls on a weekday (Monday through Friday), such as Labor Day which is always on Monday. Please visit Republic Services website for more information on holiday trash collection schedules.
Alhambra Trash Collection Map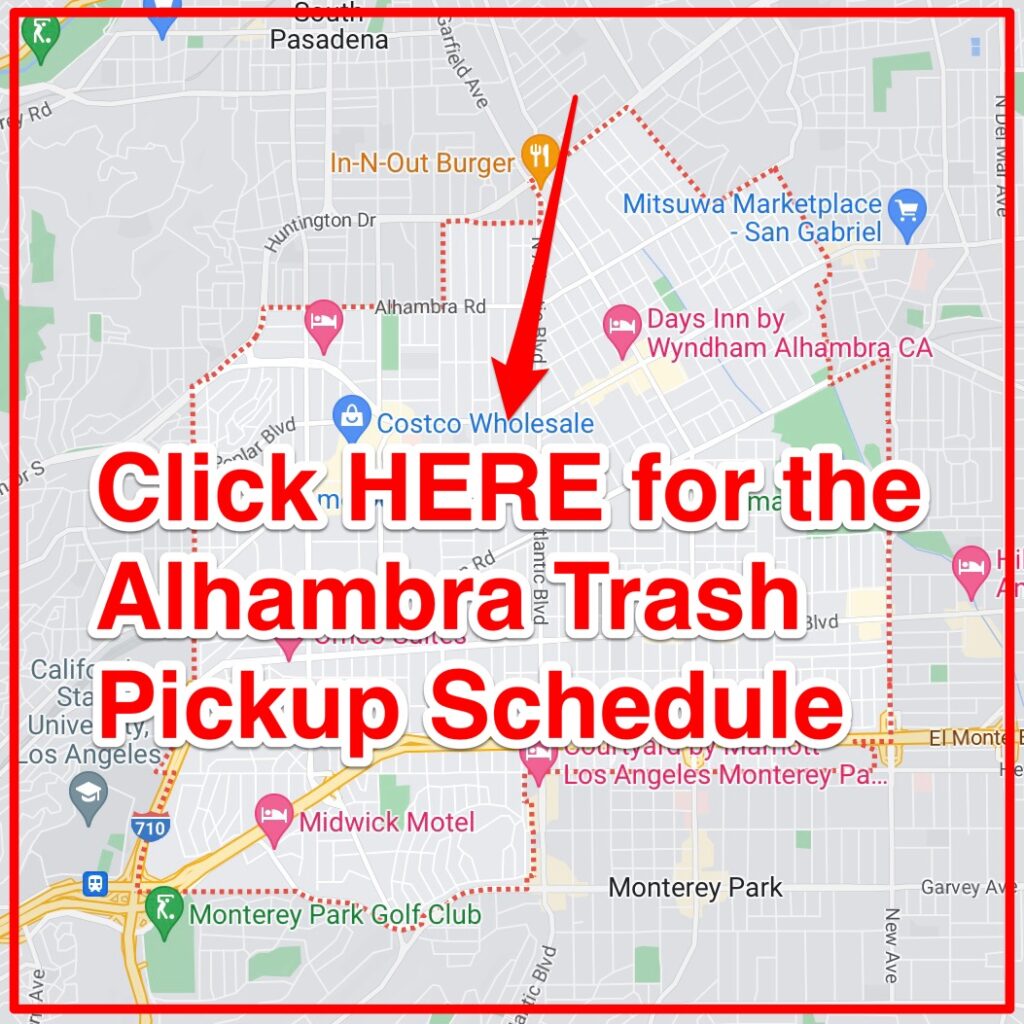 Bulk Waste Pickup Calendar 2023
To find your bulk item pickup schedule visit: https://www.cityofalhambra.org/302/Bulky-Item-Pick-Up for find the collection day for your bulk waste.
Acceptable Items for Bulk Pickup
Furniture: Chairs, sofas, mattresses, rugs, cabinets, futons, beds, box springs and tables.
Appliances: Refrigerators, ranges, washers, dryers, water heaters, dishwashers, plumbing, small household appliances and other similar items, commonly known as "white goods."
Electronic equipment: Stereos, televisions, computers and monitors, VCRs, microwaves and other similar items commonly known as "brown goods."
Bundled wood waste.
Unacceptable Items for Bulk Pickup
Industrial Waste: Car bodies; Tires; Construction and demolition debris,
Lawn/Garden Care Products: Bug spray; Pesticide/ insecticide/herbicide; fertilizer; fungicide; weed killer.
Paint and Paint-Related Products: Latex/water-based paint and oil-based paint; turpentine paint stripper; paint thinner; rust remover; varnish.
Automotive Fluids and Batteries: Used motor oil and filters; kerosene; windshield washer solution; brake and transmission fluid; metal polish with solvent; gasoline and diesel fuel; auto body repair products; antifreeze; lead acid batteries.
Beauty Products and Medicines: Alcohol-based lotions/isopropyl alcohol; medicine; hair relaxers, dyes and permanents; nail polish and nail polish remover; products in aerosol cans.
Household Cleaners: Ammonia-based cleaners; floor care products; window cleaners; metal polish and cleaners; oven and drain cleaners; aerosol cleaners; furniture polish; tub, tile and toilet bowl cleaners.
Miscellaneous Household Hazardous Waste: Fluorescent lights; photographic chemicals; shoe polish; swimming pool chemicals; glue; mercury thermometers; lighter fluid; fiberglass epoxy; moth balls; mercury batteries.
Items requiring more than two persons to remove.
Donate Before you Waste!
Have bulky items the city won't pick up? You need a junk removal service.
If you have large items that the city won't take from you, you may need to hire a junk removal service.
Junk removal services are not be as picky about the items they're collecting so if the city won't take the item, this may be your best bet. There's usually a fee involved with junk removal but most companies can tell you ahead of time approximately what it's going to cost.
There are a number of junk removal services in Alhambra and I'm sure many of them will be able to help you out.
Recycling Collection Calendar 2023
Here's the link to the recycling collection calendar: https://www.cityofalhambra.org/295/Organics-Waste-Recycling-Program
Frequently Asked Questions
When is bulk pickup in Alhambra?
To find your bulky item pickup in your area visit: https://www.cityofalhambra.org/302/Bulky-Item-Pick-Up
What day is trash pickup?
To find trash pickup on your street visit: https://www.cityofalhambra.org/279/Solid-Waste-Recycling
What time does trash collection start?
Trash collection starts at 6 a.m. Make sure to have your bins on the curb by then.
How can I contact the Alhambra Public Works Department?
For additional information on residential and commercial trash collection contact Republic Services at [email protected] or 800-299-4898.
Did we miss anything?
Hope you were able to find everything you need for the Alhambra trash pickup schedule. We strive to provide the most up to date information so please let us know if you need anything else.