We're here to help you find the San Diego trash pickup schedule for 2023 including bulk pickup, recycling, holidays, and maps.
The City of San Diego is in California with Escondido, Carlsbad and Oceanside to the north, and Chula Vista to the south, La Mesa to the east.
If there's a change to your normal trash collection schedule then there's a good chance your street sweeping schedule has changed too so make sure to check for updates.
San Diego Trash Collection Calendar 2023
For normal trash collections schedules, visit the city website and enter your address to find the collection day for your trash.
San Diego Trash Collection Map
Click on the map below and then either search for your address or use your current location to find your trash schedule.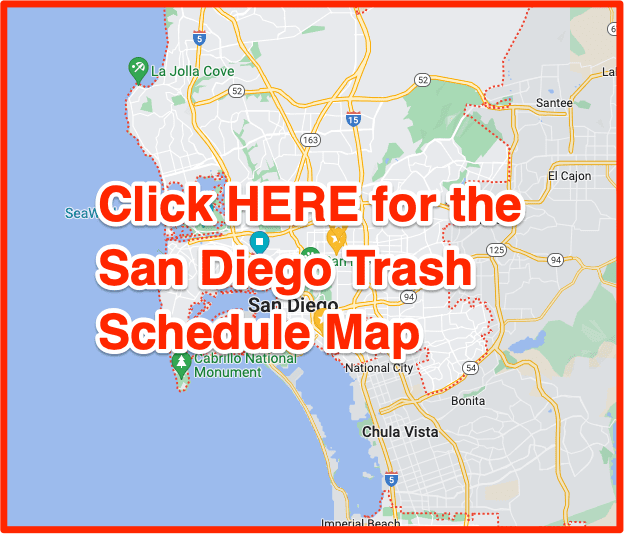 Bulk Waste Pickup
The city does not provide bulk waste pickup. To remove bulk waste from your property you'll need to call at junk removal company.
San Diego Junk Removal Services
Recycling Collection Calendar 2023
Recycling is collected on the same day as trash. Your collection day depends on where you live in the city.
You can find your recycling collection day by visiting: https://getitdone.sandiego.gov/ESD_TrashCollectionSchedule
Trash Pick Up Holidays
No collection of City of San Diego trash, recyclables, or yard waste on the following City-observed holidays:
Monday, May 29, 2023 – Memorial Day
Monday, July 4, 2023 – Independence Day
Monday, September 4, 2023 – Labor Day
Thursday, November 23, 2023 – Thanksgiving Day
Starting on the day of the holiday, trash is collected one day later for the remainder of that week
Frequently Asked Questions
When is bulk pickup in San Diego?
Bulk pickup is not provided by the city. You need to call a Junk Removal company.
What day is trash pickup?
You can find your trash pickup schedule by visiting the city website and entering your address
What time does trash collection start?
Trash is collected weekly, Monday- Friday from 6am to 5:30pm. Be sure to have your bins placed at the curb by 6am on your pickup day.
How can I contact the San Diego Environmental Services?
Email: [email protected]
Phone: 858-694-7000
Did we miss anything?
Hope you were able to find everything you need for the San Diego trash pickup schedule. We strive to provide the most up to date information so please let us know if you need anything else.