Find the City of Philadelphia trash pickup schedule for 2023 including holidays, recycling, and bulk pickup.
There may be changes to your normal collection schedule due to holidays, weather, or roadwork.
Make sure to confirm your collection schedule directly with the city.
If there's a change to your trash collection schedule, there may also be a change to the street sweeping schedule so verify that too.
Trash Pickup Schedule 2023
The fastest and easiest way to find your trash collection schedule is to enter your street address on the city website here.
Philadelphia Trash Schedule Map
Click on the map below and enter your address to find out when your trash pickup is scheduled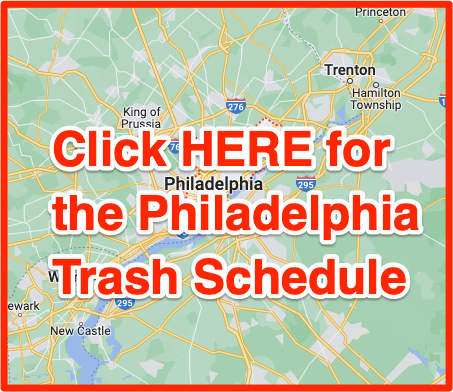 Holiday Trash Schedule
After a City-observed holiday, trash and recycling collection are delayed by one day for the rest of the week. Here's a list of the Philadelphia trash holidays:
New Year's Day
Martin Luther King, Jr. Day
Presidents' Day
Good Friday
Memorial Day
Juneteenth
Independence Day
Labor Day
Indigenous Peoples' Day
Veterans Day
Thanksgiving
Christmas Day
Bulk Trash Schedule
A bulk trash schedule isn't provided by the City of Philadelphia.
If you have large items you need picked up it may be best to contact a local company like GoLoadUp.com or WeLoveJunkPhilly.com
City of Philadelphia Twitter Updates
You can stay up to date on trash & recycling schedules by following @philadelphiagov on twitter
City services will be curtailed on Friday, April 7, in observance of the Good Friday holiday. There will be no trash and recycling collections. Friday's materials will be collected on Saturday, April 8 https://t.co/nj1tlkwsmh. pic.twitter.com/xiM466Q56y

— philastreets (@PhilaStreets) April 6, 2023
Frequently Asked Questions
When's my trash day in Philly?
To find your trash collection visit this city website and enter your address.
What time is trash pickup?
Trash pickup in Philly usually starts at 6 am and goes throughout the day.
Is there trash pickup tomorrow in Philadelphia?
Most trash schedules run as normal unless there's a federal or state holiday during the week.
Did we miss anything?
We do our best to keep this site up-to-date but if we missed something please let us know in the comments.
Or if you have any questions about your trash or garbage schedule please post them in the comments.
Thanks!