We're here to help you find the Newport News trash schedule for 2023 including bulk pickup, recycling, holidays, and maps.
The City of Newport News is in Virginia just north of Virginia Beach, Norfolk, and Chesapeake, and southeast of Richmond.
If there's a change to your normal trash collection schedule then there's a good chance your street sweeping schedule has changed too so make sure to check for updates.
New Port News Trash Collection Calendar 2023
For normal trash collections schedules, visit: https://www.nnva.gov/DocumentCenter/View/30010/Collection-Calendar-2023-PDF
Trash Pick Up Holidays
Here you can see the city-observed holidays calendar: https://www.nnva.gov/DocumentCenter/View/33112/Solid-Waste-Collection-Calendar-2023
Trash, recycling, and bulk/brush waste collection will be delayed one day after a holiday.
New Port News Trash Collection Map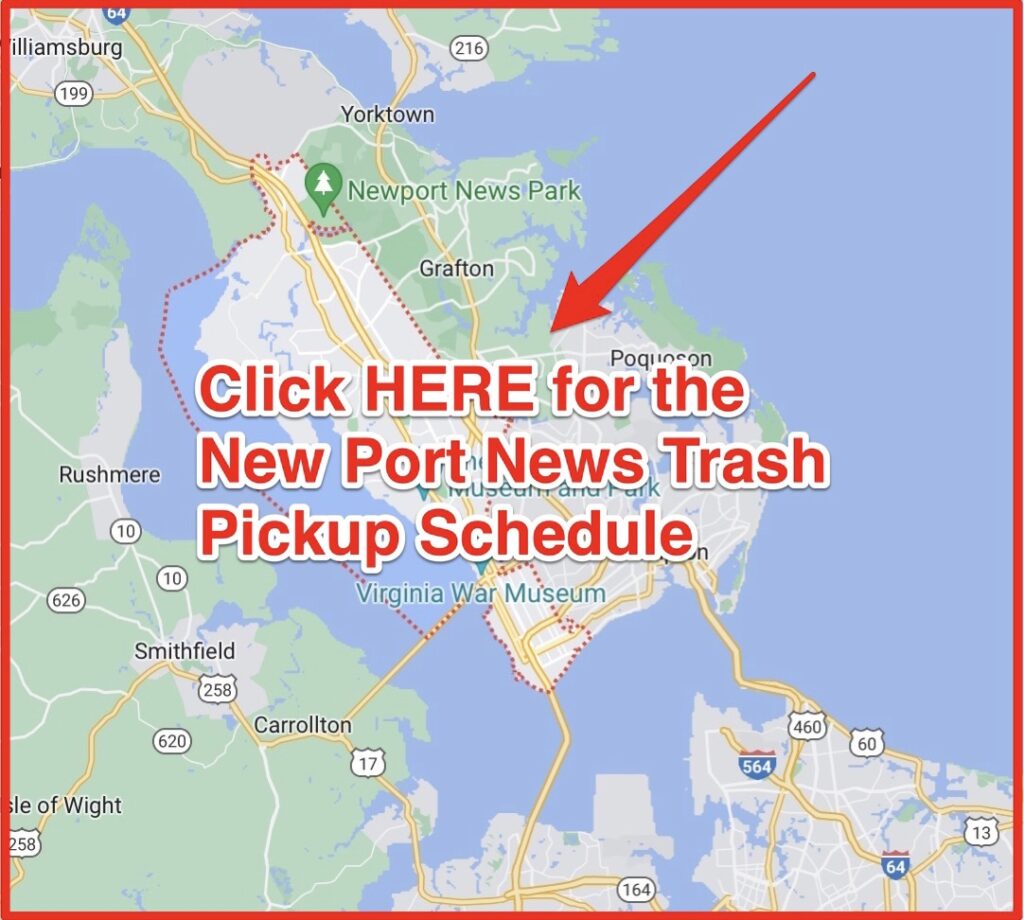 Bulk Waste Pickup Calendar 2023
To find your bulk item pickup schedule visit the city's bulk collection calendar.
Acceptable Items for Bulk Pickup
Furniture
Mattresses
Debris from residential remodeling and repair operations (if the work is performed by the resident and the proper building permit is displayed). This material is taken to the Bethel Landfill in Hampton for disposal.
Unacceptable Items for Bulk Pickup
Propane tanks unless valve is removed
Oil drums unless they are cut in half or crushed
Tree stumps or roots
Limbs and other woody waste larger than 6 inches in diameter and longer than 6 feet in length
Tires
Dark (non-transparent) bags
Bags containing refuse (household waste)
Boxes or Plastic Tubs filled with debris
Unbagged leaves, grass, pine straw or similar material
Debris from work performed by anyone other than the resident
Building materials unless work is being performed by resident, and the proper building permits have been obtained and are displayed
Automobile parts, bodies, doors, driver trains, motorcycles or parts, lawn mowers or parts, and other similar materials
Bricks, cinder blocks, rocks, concrete, glass, dirt, sand, sod or drywall
Hot ashes and other burnt items
Debris from vacant property that has been empty for more than 60 days
Debris of any type on vacant lots
Commercial waste
Paint or any liquid items
Styrofoam
Have bulky items the city won't pick up? You need a junk removal service.
If you have large items that the city won't take from you, you may need to hire a junk removal service.
Junk removal services are not be as picky about the items they're collecting so if the city won't take the item, this may be your best bet. There's usually a fee involved with junk removal but most companies can tell you ahead of time approximately what it's going to cost.
There are a number of junk removal services in Newport News and I'm sure many of them will be able to help you out.
Recycling Collection Calendar 2023
Here's the link to the recycling collection calendar.
Frequently Asked Questions
When is bulk pickup in Newport News?
To find your bulky item schedule in your area, click here.
What day is trash pickup?
To find trash pickup on your street visit here.
What time does trash collection start?
Trash collection starts at 7 a.m. Make sure to have your bins on the curb by then.
How can I contact the Newport News Waste Management?
Phone: 757-933-2311
513 Oyster Point Road
Newport News, VA 23602
Did we miss anything?
Hope you were able to find everything you need for the Newport News trash pickup schedule. We strive to provide the most up to date information so please let us know if you need anything else.