We're here to help you find the Mandan trash pickup schedule for 2023 including bulk pickup, recycling, holidays, and maps.
The City of Mandan is in North Dakota with Minot to the north, Bismarck to the east, Dickinson to the west, Aberdeen to the southeast, and Williston to the northwest.
If there's a change to your normal trash collection schedule then there's a good chance your street sweeping schedule has changed too so make sure to check for updates.
Mandan Trash Collection Calendar 2023
Regular household trash is picked up by Armstrong Sanitation & Roll Off Inc. once a week. Click here to download a map showing the scheduled areas.
Trash Pick Up Holidays
Here you can see the city-observed holidays.
New Year's Day
Memorial Day
Independence Day
Labor Day
Thanksgiving Day
Christmas Day
When a collection falls on a holiday, that day's collection and all remaining collections for the week, will be delayed one day. Fridays collection will take place on Saturday. (If the holiday falls on a Saturday or Sunday, there will be no interruption in service)
Mandan Trash Collection Map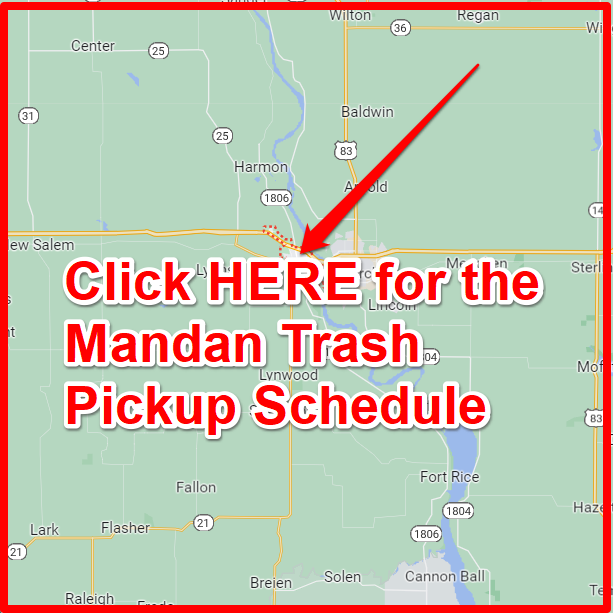 Bulk Waste Pickup Calendar 2023
For large items that do not fit or belong in your bins, you may call Armstrong Sanitation at 701-663-8219 to determine how to dispose of your bulk items.
Acceptable and Unacceptable Items for Bulk Pickup
Please contact Armstrong Sanitation at 701-663-8219 if you need additional assistance or clarification about what items are acceptable and unacceptable for bulk pickup.
Have bulky items the city won't pick up? You need a junk removal service.
If you have large items that the city won't take from you, you may need to hire a junk removal service.
Junk removal services are not be as picky about the items they're collecting so if the city won't take the item, this may be your best bet. There's usually a fee involved with junk removal but most companies can tell you ahead of time approximately what it's going to cost.
There are a number of junk removal services in Mandan and I'm sure many of them will be able to help you out.
Recycling Collection Calendar 2023
Here's the link to the recycling collection information and schedule.
Frequently Asked Questions
When is bulk pickup in Mandan?
Residents with bulk items that need to be disposed of may contact Armstrong Sanitation at 701-663-8219.
What day is trash pickup?
To find trash pickup on your street, click here to download a map showing the scheduled areas.
What time does trash collection start?
Trash collection starts at 4 a.m. Make sure to have your bins on the curb by then.
Household garbage bins must be placed with wheels and handle facing the home within 5 feet of the curb or alley and ideally 5 feet away from obstructions such as vehicles, garbage containers, or retaining walls, mailboxes, utility poles, and trees.
How can I contact the Mandan Trash and Recycling Services?
For Trash Service Questions:
Armstrong Sanitation & Roll Off
Peggy Becker
Phone:
701-663-8219
701-426-7471
For Recycling Service Questions:
Waste Management
7007 15th St NW
Bismarck, ND 58503
Customer Service – missed collection, broken totes, etc
Phone: 1-888-960-0008
Local – for new residents who need a tote
Phone: 701-354-6550
Did we miss anything?
Hope you were able to find everything you need for the Mandan trash pickup schedule. We strive to provide the most up to date information so please let us know if you need anything else.