We're here to help you find the Hillsborough County garbage pickup schedule for 2023 including bulk pickup, recycling, holidays, and maps.
The County of Hillsborough is in Florida and compasses Tampa with Lakeland to the east, St.Petersburg to the southwest, Ocala to the north.
If there's a change to your normal trash collection schedule then there's a good chance your street sweeping schedule has changed too so make sure to check for updates.
Hillsborough County Trash Collection Calendar 2023
For normal trash collections schedules, visit https://www.hillsboroughcounty.org/en/residents/property-owners-and-renters/trash-and-recycling/find-my-trash-collector-and-collection-schedule
Trash Pick Up Holidays
There is no garbage, recycling or yard waste collection on the following holidays, unless otherwise noted:
New Year's Day (January 1)

Only normally scheduled recycling collection will occur on this day

Martin Luther King, Jr. Day (Third Monday in January)
Memorial Day (Last Monday in May)
Juneteenth (June 19)
Independence Day (July 4)
Labor Day (First Monday in September)
Thanksgiving Day (Fourth Thursday in November)

Regular schedule resumes on the Friday after Thanksgiving

Christmas Day (December 25)

Regular schedule on Dec. 24 and 26
Regular collection is scheduled for all other holidays.
The holiday collection schedule is suspended only for that specific holiday date or day as noted above, not the day before or the day after
There are no holiday make-up days for the collection of residential garbage, recycling or yard waste
If your collection date falls on a holiday, services will resume on the next regularly scheduled collection day
County disposal facilities are also closed on the above holidays, including the following:

Southeast County Landfill
Northwest and South County Transfer Facilities
Resource Recovery Facility
Community Collection Centers
All yard waste sites
Hillsborough County Trash Collection Map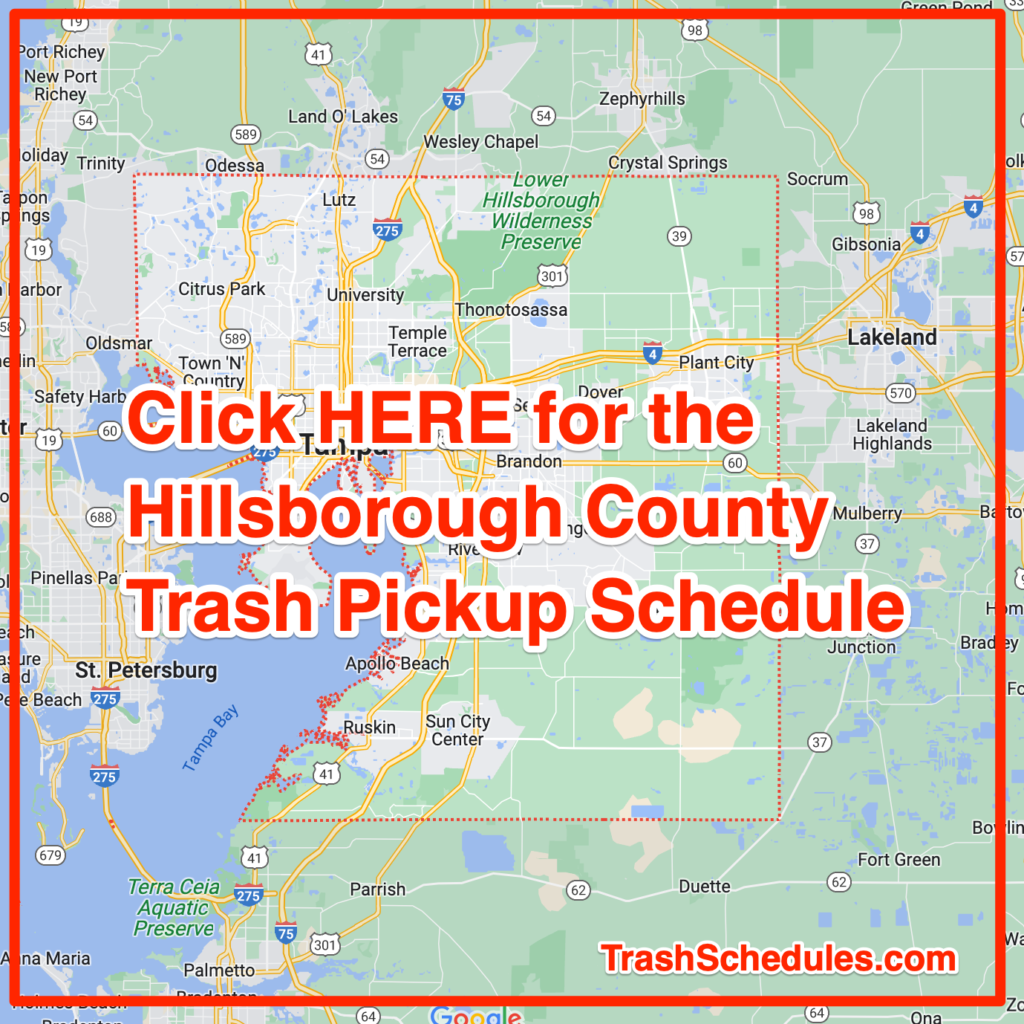 Curbside Bulk Waste Pickup Calendar 2023
Bulk pickup is can be scheduled but there's a cost involved. Most items cost $30 to $50 per items to be picked up.
To schedule bulk pickup call: (813) 272-5680
Bulk Waste Fee Schedule
$30 price per item
Any Size Mattress
Barstool
Bathroom Sink
Bathroom Toilet
Bathroom Tub
Bbq Grill (no tank)
Bed Frame
Bicycle
Box Spring
Cabinet (per unit)
Cardboard Boxes (20 boxes equals an item)
Carpet (10' X 10' per item)
Chairs
Chest
Children Toys
Coffee Table
Couch
Desk
Dining Chairs
Dresser
Entertainment Center (broken down)
Exercise Machine
Fence (per 8' section)
Headboard
Insulation (bagged up to 13 bags)
Lawn Mower (no oil or gas)
Love Seat
Ottoman
Padding (10' X 10' per item)
Pallet (per 8' section)
Recliner (per unit)
Screen Door
Sectional Sofa (max 2 pieces per item)
Shelves (per unit)
Side Table
Sofa
Solid Waste (10 bags per item )
Steel Door
Swing Set (disassembled)
Vacuum
Wood Door
$50 price per item
Clothes Dryer
Commercial Large Appliances
Conventional Oven
Dishwasher
Electrical Stove
Freezer
Gas Stove
Hot Water Heater
Microwave Oven
Refrigerator
Stove Induction
Television
Unit Air Conditioner
Washing Machine
Water Softener
Acceptable Items for Bulk Junk Self Hauling
If you don't want to pay the fee to have your bulk junk picked up curbside you can choose to self haul it to a local waste facility.
Here are the acceptable items you can dispose of…
Washer/dryer
Refrigerator/dorm fridge
Chest freezer
Air conditioning unit
Microwave ovens
Stove
Water Heater/Chiller/wine chiller
Items too large to fit into curbside bins
Non-burnable materials
Mattresses/box springs
Treated wood
Furniture
Couches
Tables
Chairs
Steel
Concrete
Tile
Auto tires
What to bring
If you are going to self haul your bulk items then be sure to bring the following to the waste station:
Photo ID showing the residential address of the property owner
A printed or digital copy of your annual Hillsborough County Property Tax Bill showing your current solid waste assessments
Hillsborough County Junk Removal Companies
If you have large items that the city won't take from you, you may need to hire a junk removal service.
Junk removal services are not be as picky about the items they're collecting so if the city won't take the item, this may be your best bet. There's usually a fee involved with junk removal but most companies can tell you ahead of time approximately what it's going to cost.
There are a number of junk removal services in Hillsborough County and I'm sure many of them will be able to help you out.
Recycling Collection Calendar 2023
Here's the link to the recycling collection calendar: https://www.hillsboroughcounty.org/en/residents/property-owners-and-renters/trash-and-recycling/find-my-trash-collector-and-collection-schedule
Frequently Asked Questions
When is bulk pickup in Hillsborough County?
Curbside bulk pickup is provided on an appointment basis only and will cost $30-$50 per item. Call (813) 272-5680 for schedule curbside bulk pickup.
What day is trash pickup?
To find trash pickup on your street visit: https://www.hillsboroughcounty.org/en/residents/property-owners-and-renters/trash-and-recycling/find-my-trash-collector-and-collection-schedule
What time does trash collection start?
Trash collection starts at 6am. Make sure to have your bins on the curb by then.
How can I contact the Hillsborough County Public Works Department?
Address: 332 N. Falkenburg Road,
Brandon, FL 33619 
Department Director: Kimberly Byer
Phone: (813) 272-5680
Hope you were able to find everything you need for the Hillsborough County trash pickup schedule. We strive to provide the most up to date information so please let us know if you need anything else.