We're here to help you find the Gainesville trash pickup schedule for 2023 including bulk pickup, recycling, holidays, and maps.
The City of Gainesville is in Florida with Jacksonville to the northeast, Orlando to the southeast, Ocala and Tampa to the south, and Palm Coast to the east.
If there's a change to your normal trash collection schedule then there's a good chance your street sweeping schedule has changed too so make sure to check for updates.
Gainesville Trash Collection Calendar 2023
For normal trash collection schedules, visit the city's garbage collection website.
Trash Pick Up Holidays
Here you can see the city-observed holidays.
New Year's Holiday (observed) – January 2, 2023
Dr. Martin Luther King, Jr. Day
Memorial Day
Independence Day
Thanksgiving Day
Christmas Day
If your collection day occurs on or after one of the scheduled holidays listed above, your collection will be delayed one day for the remainder of that week following that holiday. ***For example, on a week with a Monday Scheduled Holiday, Tuesday's collections will occur on Wednesday, Wednesday's collections on Thursday, and Thursday's collections on Friday.
If a holiday is NOT listed as a scheduled holiday, services will occur as scheduled on your normal collection day.
Gainesville Trash Collection Map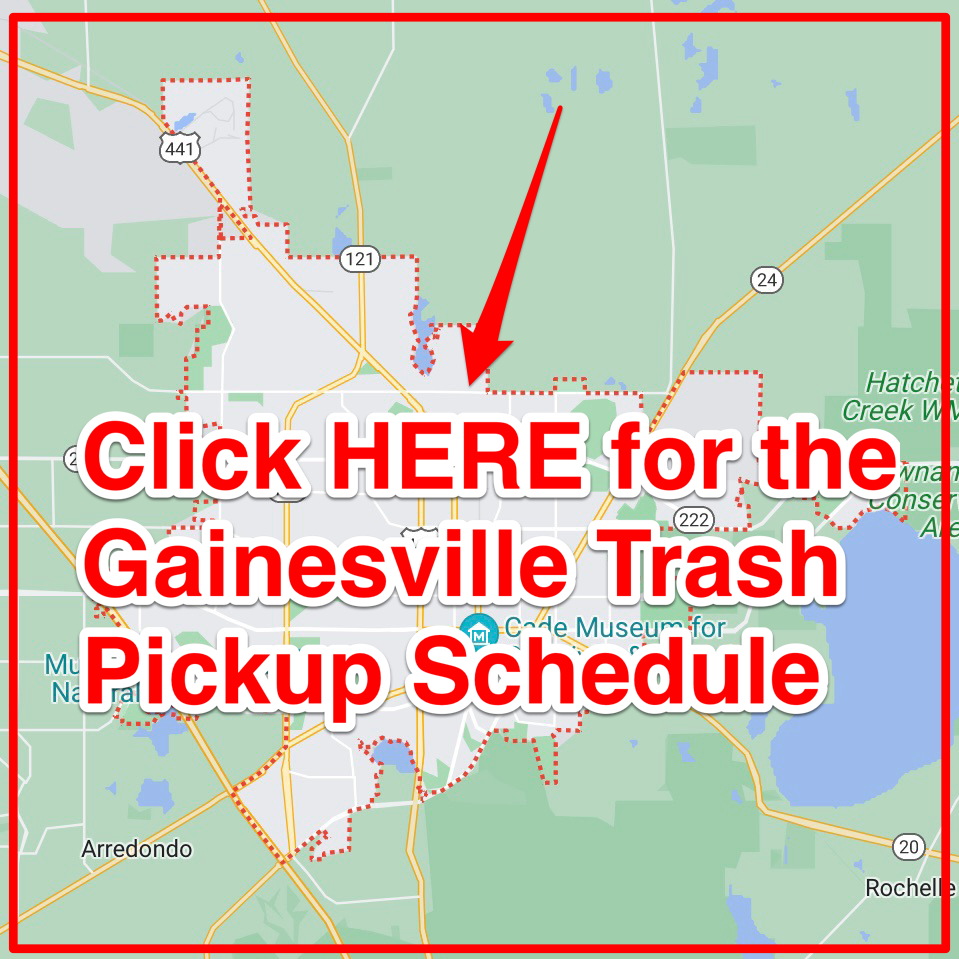 Bulk Waste Pickup Calendar 2023
Residential bulk waste is collected within the City of Gainesville on Tuesdays, Wednesdays, and Thursdays. To find out the collection day for your address, click on this map.
Acceptable Items for Bulk Pickup
Furniture – sofas, couches, chairs, dressers, tables, nightstands, mattresses, box springs, and bed frames
Exercise Equipment – bicycles, treadmills, stationary bikes, and elliptical machines
Large Household Items – projection televisions, vacuums, ironing boards, brooms, window blinds, and empty luggage.
Large Outdoor Items* – patio furniture, trampolines, swing sets, basketball backdrop, basketball poles, and BBQ grills (❌ Without the gas tank or coals)
Large Kid Items – bicycles, riding toys, kiddie pools, playsets, car seats, walkers, and strollers
Garden Tools – rakes, shovels, wheelbarrows and old trash containers
Interior Remodeling Debris* – toilets, sinks, cabinets, carpets, rugs, shower doors, mirrors, tiles, and glass tabletops. Carpeting must be set out in rolls, no longer than 5 feet in length and no more than 40 pounds each roll. Tiles, flooring, and other smaller scrap pieces must be set out in personal reusable waste containers (❌ not bags) weighing no more than 40 pounds each container and combined totaling no more than 2 cubic yards.
Unacceptable Items for Bulk Pickup
No Miscellaneous Garbage – no trash or garbage set out loose, in boxes or in plastic bags (other than waste set out in Official Yellow Bags).
No Commercial or Contractor generated waste – no debris generated from work performed by contractors must be hauled off by the contactor (City of Gainesville Ordinance Ch. 27-73.11).
No Exterior Home Materials – no pallets, pressure treated wood or planks, fencing, deck boards, outbuildings, doghouses, blocks, concrete, bricks, exterior drywall, shingles, well tanks, pool pumps, pool filters, garage doors, windows or metal drums.
No Large Miscellaneous Items – no pool tables, hot tubs, spas, above ground pools, pool covers, diving boards, pianos or organs. Small kiddie pools are okay.
No Small Miscellaneous Items – no flowerpots, garden hoses, clothes, small appliances or other waste which could fit inside your garbage cart or inside an Official Yellow Bag.
No Gas Engine Equipment or Car Parts – no lawn mowers, trimmers, chainsaws, car bumpers or tires.
No Hazardous Waste – no paint, propane tanks (even if empty), auto batteries or fluorescent tubes.
Have bulky items the city won't pick up? You need a junk removal service.
If you have large items that the city won't take from you, you may need to hire a junk removal service.
Junk removal services are not be as picky about the items they're collecting so if the city won't take the item, this may be your best bet. There's usually a fee involved with junk removal but most companies can tell you ahead of time approximately what it's going to cost.
There are a number of junk removal services in Gainesville and I'm sure many of them will be able to help you out.
Recycling Collection Calendar 2023
Here's the link to the recycling collection schedule.
Click here for more information about the city's recycling program.
Frequently Asked Questions
When is bulk pickup in Gainesville?
To find your bulky item pickup in your area, visit this page.
What day is trash pickup?
To find trash pickup on your street visit the city's trash pickup schedule online and enter your address.
What time does trash collection start?
Trash collection starts at 7 a.m. Make sure to have your bins on the curb by then.
How can I contact the Gainesville Public Works Department?
Phone:
352-334-2330
Email:
[email protected]
Did we miss anything?
Hope you were able to find everything you need for the Gainesville trash pickup schedule. We strive to provide the most up to date information so please let us know if you need anything else.