We're here to help you find the Clarkstown trash pickup schedule for 2023 including bulk pickup, recycling, holidays, and maps.
The City of Clarkstown is in New York with Greenburgh to the southeast, Orangetown to the south, Middletown to the northwest, Cortlandt to the north, Yorktown to the northeast.
If there's a change to your normal trash collection schedule then there's a good chance your street sweeping schedule has changed too so make sure to check for updates.
Clarkstown Trash Collection Calendar 2023
For normal trash collections schedules, visit https://www.clarkstown.gov/defm/garbage-bulk-pickup/
Trash Pick Up Holidays
Here you can see the city-observed holidays.
New Year's Day
President's Day
Memorial Day
4th of July
Labor Day
Columbus Day
Thanksgiving
Christmas
Clarkstown Trash Collection Map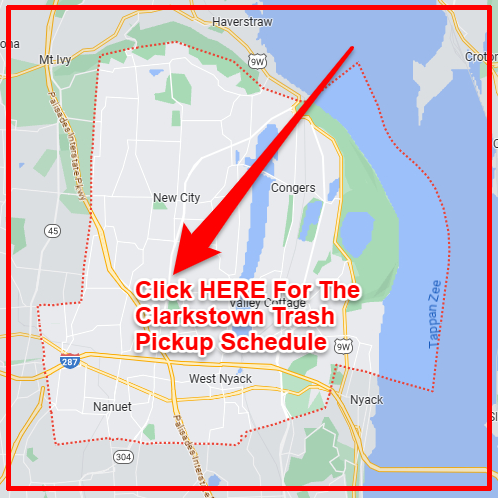 Bulk Waste Pickup Calendar 2023
To find your bulk item pickup schedule visit: https://www.clarkstown.gov/defm/garbage-bulk-pickup/
Acceptable Items for Bulk Pickup
refrigerators
washing machines
dryers
water heaters
microwaves
stoves
ranges
room air-conditioners
push lawn mowers
snow blowers (gas removed)
treadmills
refrigerator
freezer
sofas
chairs
mattress
carpeting
padding tightly rolled
bundled
tied not exceeding 5 ft. in length
storm
screen windows
doors
interior closet
room doors
scrap lumber
home furnishing products
electrical
plumbing fixtures
plaster
wallpaper
empty paint cans
wallboard
paneling
linoleum
ceramic tile flooring
Unacceptable Items for Bulk Pickup
furnaces
boilers
central air-conditioning units
pool heaters
liners
ladders
diving boards
windows
outside doors
garage doors
sliding glass doors
lumber
decks
porches
sheds
railroad ties
fences
tree stumps
grass clippings
soil
rocks
stones
concrete
asphalt
automobile parts
barbecue propane tanks
pallets
tires
electronic equipment
televisions
computers
hazardous waste
Have bulky items the city won't pick up? You need a junk removal service.
If you have large items that the city won't take from you, you may need to hire a junk removal service.
Junk removal services are not be as picky about the items they're collecting so if the city won't take the item, this may be your best bet. There's usually a fee involved with junk removal but most companies can tell you ahead of time approximately what it's going to cost.
There are a number of junk removal services in Clarkstown and I'm sure many of them will be able to help you out.
Recycling Collection Calendar 2023
Here's the link to the recycling collection calendar: https://www.clarkstown.gov/defm/garbage-bulk-pickup/
Frequently Asked Questions
When is bulk pickup in Clarkstown?
To find your bulky item pickup in your area visit: https://www.clarkstown.gov/defm/garbage-bulk-pickup/
What day is trash pickup?
To find trash pickup on your street visit: https://www.clarkstown.gov/defm/garbage-bulk-pickup/
What time does trash collection start?
Trash collection starts at 06:55 AM. Make sure to have your bins on the curb by then.
How can I contact the Clarkstown Public Works Department?
845 753-2200
Did we miss anything?
Hope you were able to find everything you need for the Clarkstown trash pickup schedule. We strive to provide the most up to date information so please let us know if you need anything else.