We're here to help you find the Ceres trash pickup schedule for 2023 including bulk pickup, recycling, holidays, and maps.
The City of Ceres is in California with Modesto to the north, Turlock and Atwater to the southeast, San Jose and Campbell to the west.
If there's a change to your normal trash collection schedule then there's a good chance your street sweeping schedule has changed too so make sure to check for updates.
Ceres Trash Collection Calendar 2023
For normal trash collections schedules, visit https://www.ci.ceres.ca.us/661/Residential-Collection-and-Disposal-Serv
*The City has an exclusive franchise waste agreement with Bertolotti Disposal to collect garbage, recyclables, organics, bulky items, and leaf and limb piles within the city limits.
Trash Pick Up Holidays
Here you can see the city-observed holidays.
New Year's Day
Memorial Day
Independence Day
Labor Day
Thanksgiving Day
Christmas Day
Ceres Trash Collection Map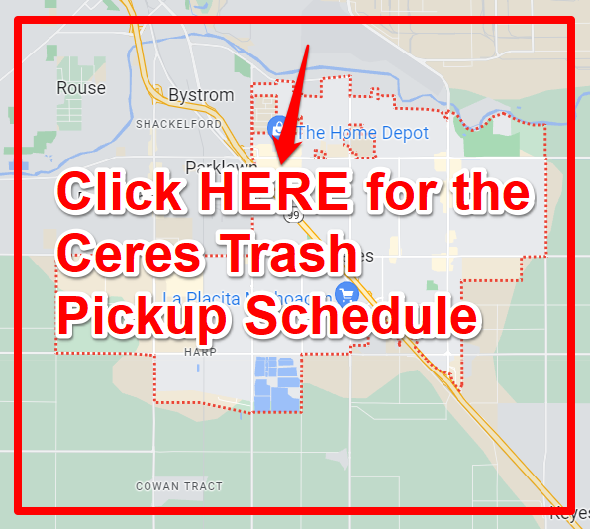 Bulk Waste Pickup Calendar 2023
To find your bulk item pickup schedule visit: https://www.ci.ceres.ca.us/650/Bulky-Item-Pick-up
Acceptable Items for Bulk Pickup
Furniture: sofas, love seats, chairs, tables, mattresses/box springs, etc.
Appliances: washers/dryers, stoves, refrigerators (must be emptied with doors removed), water heaters/softeners, etc.
Air conditioners
Toilets, sinks, tubs, hot tubs (must be cut in half)
Exercise equipment
Bicycles
Lawnmowers (gas and oil must be removed)
Doors and ladders
Carpet (must be rolled and tied not longer than 10×10)- one (1) room only
Outdoor Toys/Patio Furniture: lawn chairs, tables, large toys, grills (propane tank removed), kiddie pools, etc.
Wood (untreated)- no more than 10 pieces allowed, must be bundled & tied)
Unacceptable Items for Bulk Pickup
No household garbage, bags or piles of trash
No household hazardous waste: liquid, cooking oil, paint, varnish, motor oil, automotive fluids, car batteries, insecticide, pesticide, pool/spa chemicals, bleach, ammonia, household or shop cleaners
No tree stumps
No tires, automobile parts, trailers
No dead animals
No glass, mirrors, or windows
No basketball hoops
No E-Waste (tv's, computer monitors, microwaves, etc.)
No construction, demolition, or remodeling debris (drywall, brick, cinderblock, treated lumber, roofing materials, ceiling or floor tiles, concrete, dirt, rock, sod, sand, etc.
Have bulky items the city won't pick up? You need a junk removal service.
If you have large items that the city won't take from you, you may need to hire a junk removal service.
Junk removal services are not be as picky about the items they're collecting so if the city won't take the item, this may be your best bet. There's usually a fee involved with junk removal but most companies can tell you ahead of time approximately what it's going to cost.
There are a number of junk removal services in Ceres and I'm sure many of them will be able to help you out.
Recycling Collection Calendar 2023
Here's the link to the recycling collection calendar: 2023 Ceres Solid Waste and Recycling guide and route map
Frequently Asked Questions
When is bulk pickup in Ceres?
To find your bulky item pickup in your area visit: https://www.ci.ceres.ca.us/650/Bulky-Item-Pick-up
What day is trash pickup?
To find trash pickup on your street visit: 2023 Ceres Solid Waste and Recycling guide and route map
What time does trash collection start?
Trash collection starts at 5 a.m. Make sure to have your bins on the curb by then.
How can I contact the Ceres Public Works Department?
Address: 2220 Hackett Rd., Ceres CA 95307
Phone: (209) 538-5732

Did we miss anything?
Hope you were able to find everything you need for the Ceres trash pickup schedule. We strive to provide the most up to date information so please let us know if you need anything else.