We're here to help you find the Casper trash pickup schedule for 2023 including bulk pickup, recycling, holidays, and maps.
The City of Casper is in Wyoming with Gillette to the north, Billings to the northwest, Cheyenne to the south, Rock Springs to the southwest, Boise to the west, Rapid City to the northeast.
If there's a change to your normal trash collection schedule then there's a good chance your street sweeping schedule has changed too so make sure to check for updates.
Casper Trash Collection Calendar 2023
For normal trash collections schedules, visit https://www.casperwy.gov/residents/environment_and_waste/trash_and_recycling/residential_trash_collection
Trash Pick Up Holidays
Here you can see the city-observed holidays.
New Year's Day
Thanksgiving Day
Christmas Day
City does not collect trash on these holidays. Collection will be delayed by one day for the rest of that week.
Casper Trash Collection Map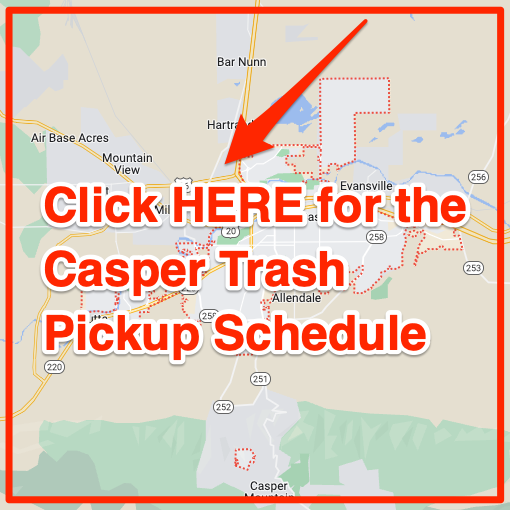 Bulk Waste Pickup Calendar 2023
To find your bulk item pickup schedule visit: https://www.casperwy.gov/cms/One.aspx?portalId=63067&pageId=81389
Acceptable Items for Bulk Pickup
*Restricted to a total combination of five (5)items
Trash bags tied securely and each bag not to exceed 50pounds
TV's and furniture weighing less than 50pounds
Four(4)or less car or pick-up truck tires without the rims
Grass clippings and yard waste must be bagged and the bags tied securely closed not to exceed 50 pounds each. *Restrictions apply. All grass clippings set out by citizens for extra collection are dumped in the landfill because they are mixed with bagged trash. Grass clippings can be brought to our compost yard and you can receive a voucher in exchange for free compost or wood chip mulch.
CUT IT HIGH AND LET IT LIE- Although grass clippings are collected on extra trash days, mulch mowing is strongly encouraged. Throwing away grass clippings is very wasteful and they take up valuable landfill space. The more landfill space wasted by grass clippings, the more landfill space will be needed. This will not help us to keep your costs for disposal at a minimum.
Unacceptable Items for Bulk Pickup
Un-bagged grass clippings, leaves, weeds, other yard waste and un-bundled branches
Dirt, sod, brick, concrete, rock, shingles, plaster, other construction/demolition materials
Wood, plastic & metal fencing/posts
Vehicle parts, large metal items
Paint, pesticides, household cleaners, poisons
Computers
Needles, urine, heavily blood-stained material
Used oil, gas/fuel, antifreeze, vehicle batteries
Propane tanks or pressurized cylinders
Bicycles, lawn mowers, BBQ grills, satellite dishes
Furniture and carpet weighing more than 50lbs
Major appliances
Explosives, ammunition, fireworks
Have bulky items the city won't pick up? You need a junk removal service.
If you have large items that the city won't take from you, you may need to hire a junk removal service.
Junk removal services are not be as picky about the items they're collecting so if the city won't take the item, this may be your best bet. There's usually a fee involved with junk removal but most companies can tell you ahead of time approximately what it's going to cost.
There are a number of junk removal services in Casper and I'm sure many of them will be able to help you out.
Recycling Collection Calendar 2023
Here's the link to the recycling collection calendar: https://www.casperwy.gov/residents/environment_and_waste/trash_and_recycling/recycling
Frequently Asked Questions
When is bulk pickup in Casper?
To find your bulky item pickup in your area visit: https://www.casperwy.gov/cms/One.aspx?portalId=63067&pageId=81389
What day is trash pickup?
To find trash pickup on your street visit: https://data-cityofcasper.opendata.arcgis.com/apps/garbage-collection-recycling-depots/explore
What time does trash collection start?
Trash collection starts at 7:00 a.m. Make sure to have your bins on the curb by then.
How can I contact the Casper Public Works Department?
Solid Waste Division
Phone: (307) 235-8246
Did we miss anything?
Hope you were able to find everything you need for the Casper trash pickup schedule. We strive to provide the most up to date information so please let us know if you need anything else.